Phone: +47 97 14 25 12 - web page: a-fritid.no
High Rope Park on Base Camp
We have adventures for everyone! Take the family, friends, or partner on fun activities and airy jumps. Family = 1 pers. Free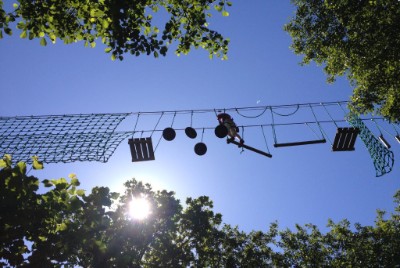 Please contact us for updated prices, availability and possibly other options for this product. Select the correct number of guests and dates and click "Contact us".
If you're late to book or it is not possible to book the day you've requested, please contact us on (+47) 97 14 25 12 and we will check for availability or the possibility to set up an extra tour or check for available bikes.
Information
High Rope Park and Zipline
Scandic Havna Hotel Tjøme.
Base Camp (900m walk from the hotel) Adresse; Sjøbusand 62 3145 Tjøme
Description
Aktiv Fritid -opplevelser med utsikt, provide safe activities as all of our activities are manned by instructors. You are welcome to try the suspention bridge, balance ring with a good view, climbing the wire-ladder, zipline, and balance through rocks and stubbs. This activity is for everyone. In addition to our lower zipline, we have two high ziplines (minimum weight of 30 kg) where you will be gliding from mountain top to mountain top before you'll smack into a soft, fat madras.
We also have Norway's highest black category climbing trial "barskløypa" and is not suitable for all. It is 65 m long, very airy, and physically demanding. Unafraid and strong childre under the age of 14 may, upon agreement, take part in this activity while accompanied by an adult thru the whole climb.
You will experience exciting activities and possibly some butterflies in your stommack. The view of Færder National Park creates a beautiful backdrop for any event. Base Camp is facilitated with stairs along the mountainsides, so everyone can join.
High Rope Park on Base Camp